DIY Cami Top
Create a cute and fun cami without a pattern! Follow our instructions to make this cami and customize and change to suit your style. This is a great beginner sewing project and easy to take the step into sewing garments.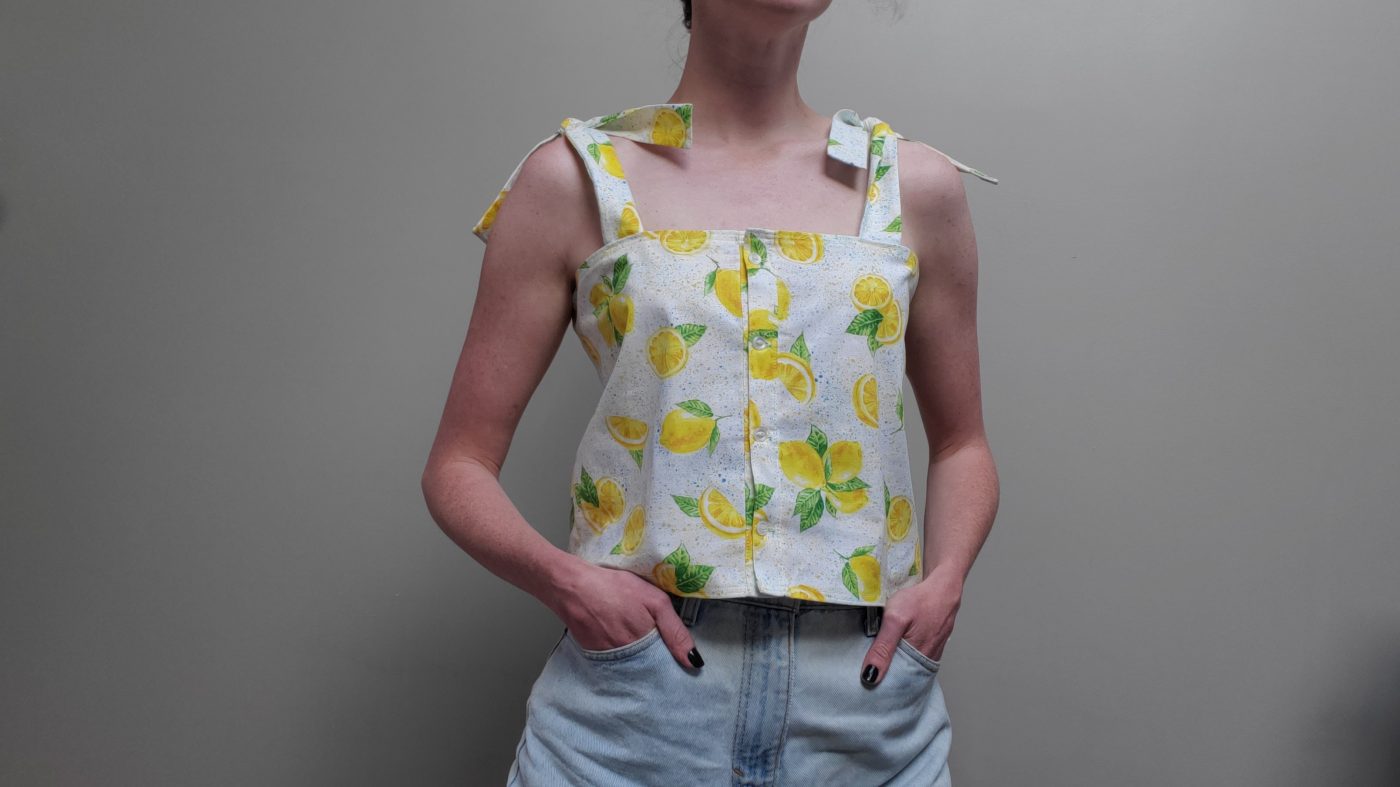 Measurements
For this top you will need two measurements
Bust Width: Measure your bust at the widest point – A
Length: Measure from your underarm to where you want the top to end – B
Instructions
This project requires no pattern and will be drawn directly onto the fabric! Place your fabric right sides together selvedge to selvedge.
For the width we begin by taking our A measurement, halving it and adding 2". This is our seam allowance and some ease so the top is not tight. You can add as much ease as you want just make sure that it will not be too wide on your body. Our A is 33" so the width of our top is 33" / 2 + 2" = 18 ½"
2. For B the length we are measuring from our underarms to belly button, for us that is 13" + 1" seam allowance to make 14" length. This will give us a crop top that falls at our waist, to make a longer or shorter length top just adjust your B measurement and add 1" seam allowance.
3. Cut out 2 of these for a front and back panel.
4. The width of your button placket is 2 ½". The length is B + 1" seam allowance. Cut out 2 plackets measuring 2 ½" x B + 1" seam allowance.
5. The width of your straps are 2" (D) The length is 15" (E), this allows for a nice tie at the top. Cut out 8 straps measuring 2" x 15
6. Take your front panel and cut up the middle creating 2 separate panels. Ours are 9 ¼" x 14"
7. Take the button plackets and place them right sides together on your front panels. Stitch together with a ¼" seam allowance. Fold your placket over and press along the seam line, press the seam allowance towards the placket.
8. Press the raw edge of the plackets back 1/4″
9. Press the placket in half covering the seam.
10. From the right side, edgestitch the placket down close to the seam line. Ensure you are catching the folded seam of the placket on the other side with your stitching (you can use an edgestitch foot here for more even results). Edgestitch the other side of the placket at the same distance. Repeat for the other side of your front.
11. Place your front panels and back panel right sides together and stitch with 1/4″ seam allowance. Hem the top and bottom edges.
12. You can now evenly space out your buttonholes and button onto the plackets for more information on this visit our tip & trick!
13. Place 2 of your straps right sides together and stitch around both sides and 1 end, turn right way out and press. Repeat with your remaining 6 straps.
14. Position your straps on the wrong side of your top, with 2 at the front and 2 at the back, we spaced ours 4" out from the middle of the front and the back. Topstitch over the right side of your top securing your straps.
https://youtu.be/4t9MLZKZugI